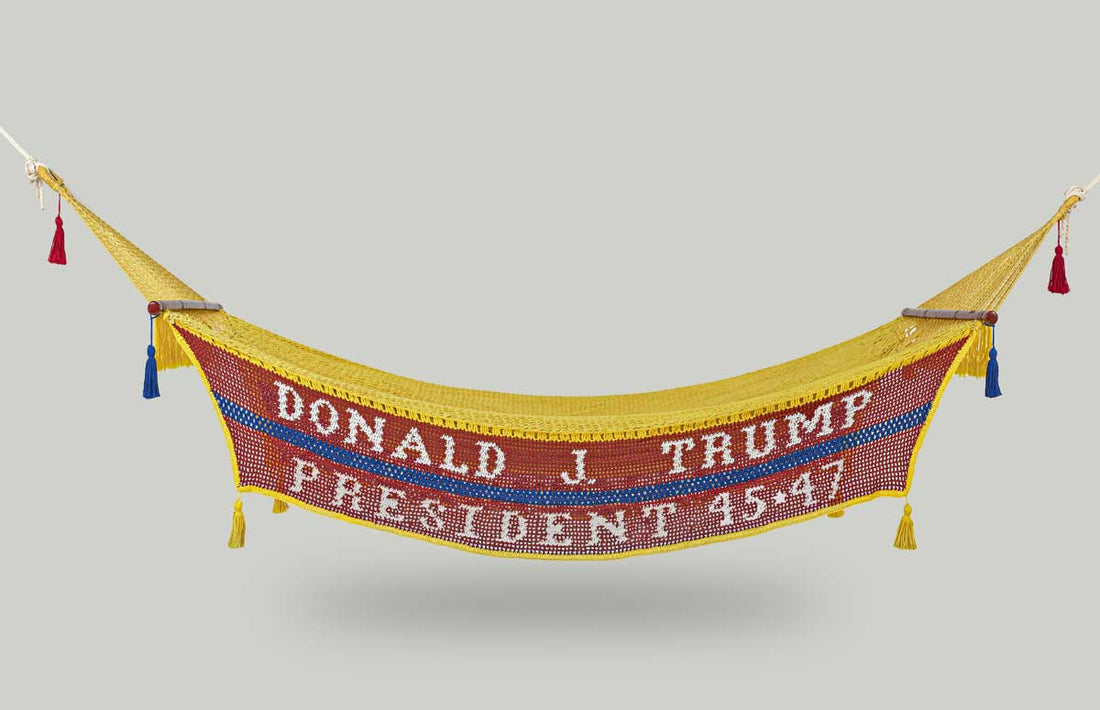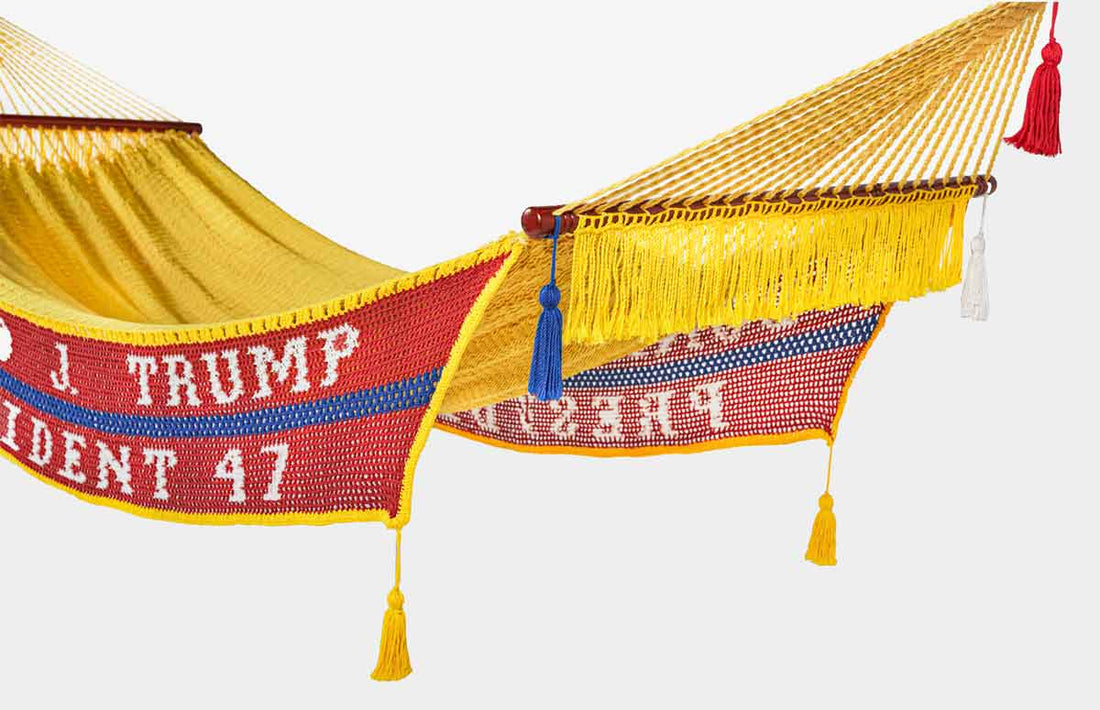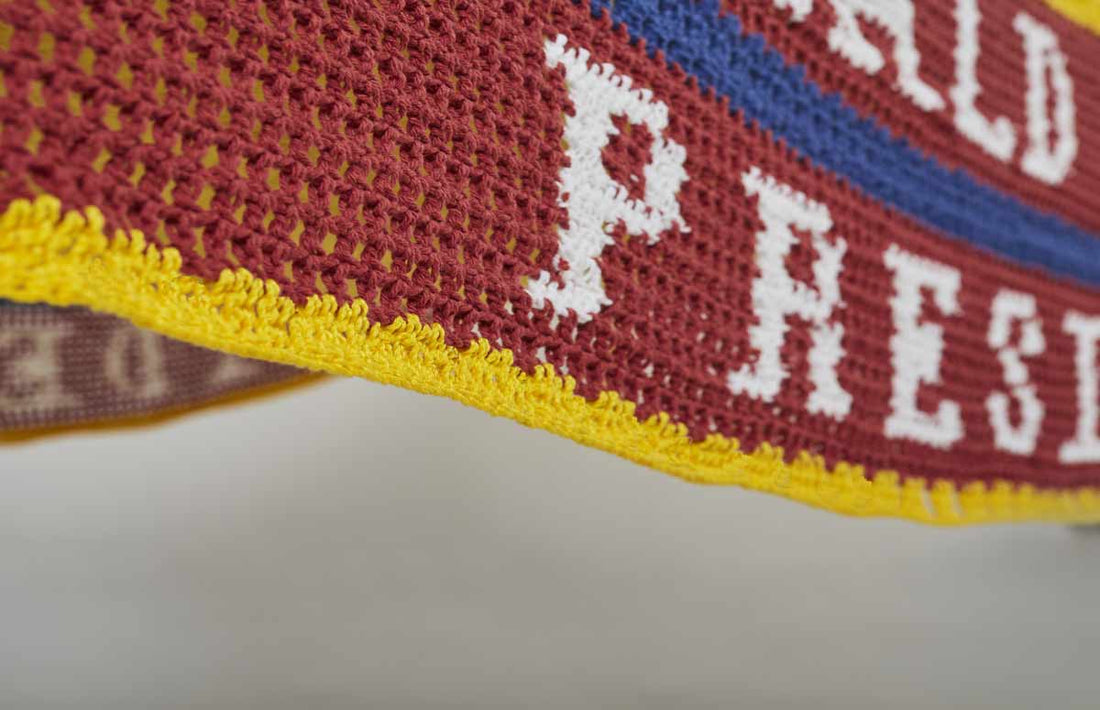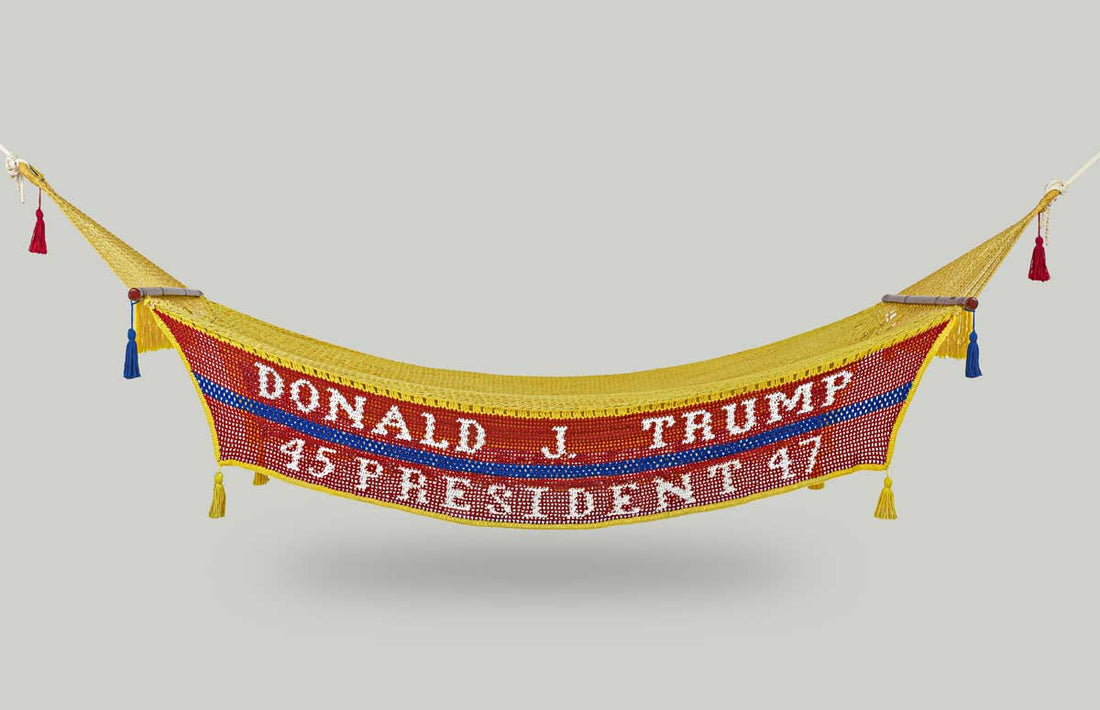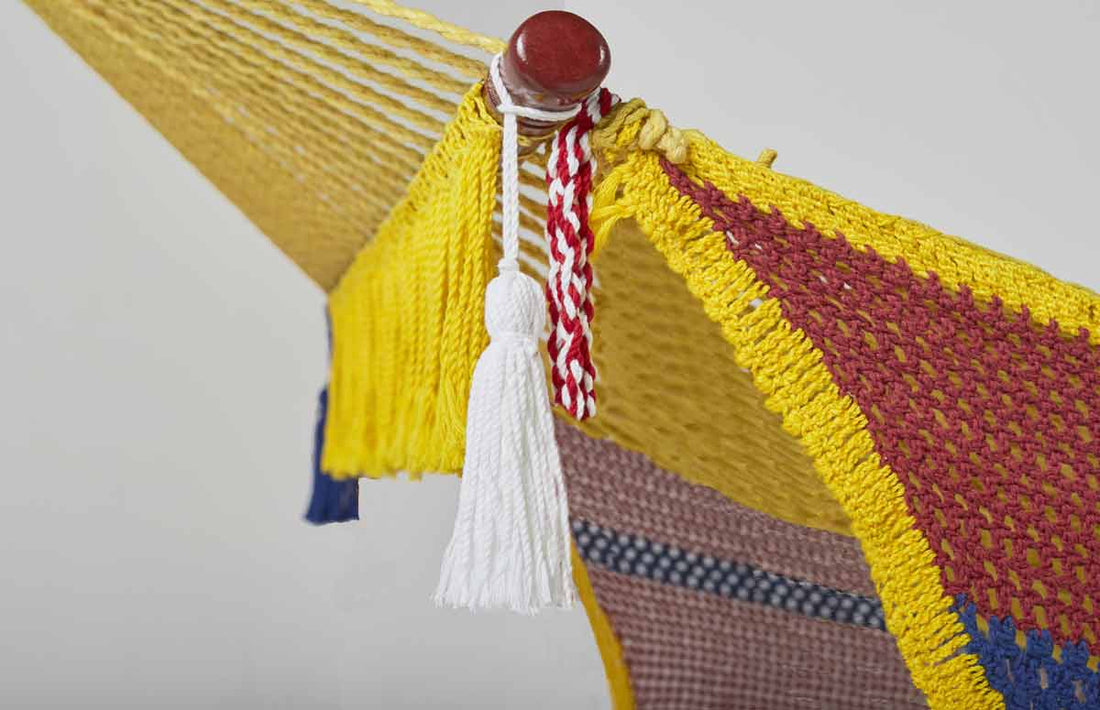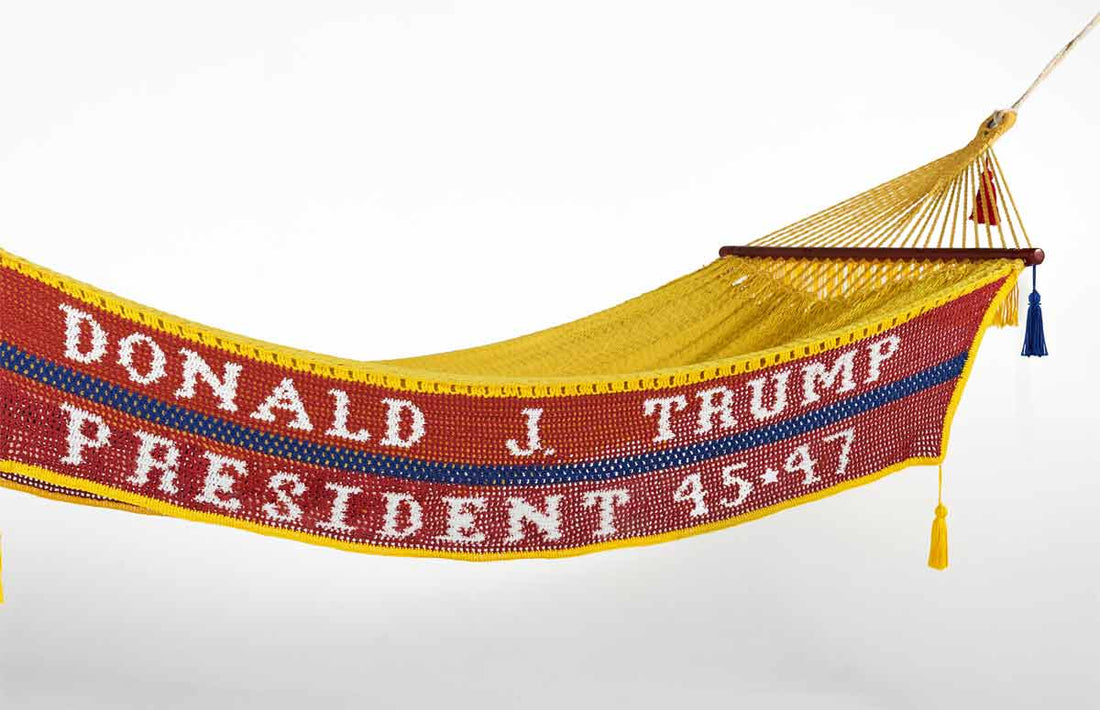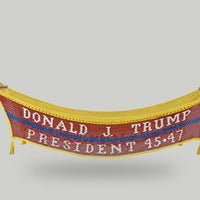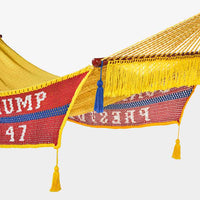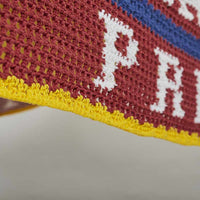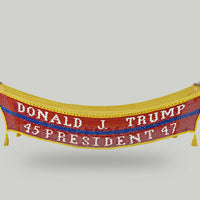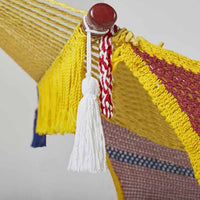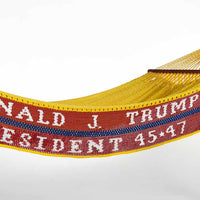 The luxurious Donald J. Trump hammock is handcrafted with 100% U.S.A hand twisted cotton rope and hand dye with natural color dyes. The hammock's  materials and color dyes were chosen to express special appreciation for what our 45th President, Donald J. Trump represents- personal strength to battle as he fights to make and keep America great, and his patriotic feelings for this country-- America first.   
Our quality and comfort is supported by thousands of hand twisted yarns along the hammock's bed. The hammock's contour adapts comfortably to the body providing support without stressing the body. 
More Options: Maga Aging Hammock Chair 
Donald J Trump Republican Hammock
Dimensions
Hammock total length:

 

151"L X 40"W 

Bed Size: 99"L X 40"Width stretches.
Hammock Clews:

 

28"L each side  
Wooden bars:

 40"LX  3/4"D w/ 25 countersunk holes per bar.
Specifications
Materials: Thousands of yards of 100 % USA hand twisted cotton rope & hand dyed w/ Eco-friendly dyes.

Colors: Hand dye red, white, blue indigo plant & gold Fustic.
Fustict natural dye:  Used in the past to color the USA military khaki uniforms and the dye was used in honor the military. 
Handcraft: A team of 4 artisans work for 14 weeks in each hammock.  
Side borders design:  The USA patriotic flag's colors were integrated in the president's name. The blue color enclose the flag's stars. The gold color around the borders represent the wealthy economy that president Trump is fighting for U.S.A. 
Hammock's Claws:

 

Each side of the hammock has

 

25 supporting ropes per side. Each rope represent one state. The claws have a total of 50 supporting ropes. Yes, hopping that president Trump win the support of the 50 states.
Hammock's bed design:

 

Represent the sunny state of Florida, the president home and the president's favorite color. The bed was designed with gold fringes for his famous gold hair. 
10 Tassels:

 Each hammock has 6 

patriotic color tassels. The white and blue tassels have a total of 13 red and white ropes which represent the USA 13 colonies.  The 4 gold tassels represent the economy rising from the bottom up.

Spreader Bars:

 Sustainable carved pine wood from well managed forestry- finished w/3 Eco-friendly red non-toxic insect repellent seal coats.



Hammock's total weight: 14 lb
Hammock's capacity: 530 lb and accommodate 1 person. 
Hardware: Included
Brand: MAGA HAMMOCKS
Made in: El Salvador with USA cotton 

 
The complexity of the design made the process very challenging  and personally I think the hammock is priceless. The artisans quote after the 2nd sample: "Only love can do this".
Delivery
Delivery: Free 7-10 days

 

within USA - 

Alaska & Hawaii

 7-15 days free delivery.  Express domestic & International delivery is available at customer cost at checkout.  



Hammocks Package total weight: 16 lb
Pkg dim:

 

39"L X 9"W X 6"H

Warranty:

 1 year.



Refund & Exchange:

 

New items for refund or exchange within 45 days of delivery.

 
Hammock chair total high: Approx. 55"
Seat size: Approx. 45"LX45"W -- Seat stretches to accommodate you.
Spreader bar dimensions: 1 5/8" D X 36" L
Hanging distance: 24" higher than the overall chair's high.
Design: Hand-woven with red and white striped seat, wooden spreader bar holding a crocheted red, white and blue AMERICA FIRST sign.  The letters are stitched on white, The swing chair is supported by 2 red clews and white hanging rope. The tassels are design with patriotic colors. 
Material: High quality USA 100% poly.  
Hand twisted rope: Prevent body pressure & skin marks.
Color: Red, white and blue. 
Spreader bar: Sustainable carved pine wood from well managed forestry finished with 3 Eco-friendly clear non-toxic insect repellent seal coats. 
Heavy duty galvanized steel hardware:  Included. 
Accommodate: 1 person.
Max. weight capacity: 500 lb
Hammock total weight: 4 lb. 11 oz 
Brand: Maga Hammocks.
Made in: El Salvador with USA materials.
Delivery: Free 7-10 days within USA - Alaska & Hawaii 7-15 days free delivery 
Pkg total weight: 6 lb 1 oz
Warranty : 1 year
Refund & Exchange: New items for refund or exchange within 45 days of delivery.